Day four of Regionalliga Süd exceptionally concluded on a Friday night – thanks to an invitation to Assenheim by the Kronberg Crusaders. Shane Steenberge was ready to play again and provided some nice saves in a 6-2 victory.
As expected it was an intense game as both teams had a chance to improve their position in the standings as the Crusaders were only 3 points behind the Vikings. Wiesbaden scored first on a breakaway six minutes into the game, but Kronberg continued to control the puck well, using all available space and clean breakouts to put pressure on the Vikings. This paid off as they were able to tie the game on a nice rotation in the Wiesbaden zone, then taking the lead two minutes later on a 2 on 1 breakaway. The Crusaders kept the foot on the gas but could not capitalize on their chances. Five minutes before the end of the first half Kronberg took two consecutive penalties which lead to a 4 on 2 powerplay. The Vikings scored the equalizer first and then – one minute later with one Crusader still in the penalty box – another goal to take a 3-2 lead. This gave Wiesbaden some momentum as they added one more tally before the break.
In the second half the Vikings defended well, kept their positions and kept control of the puck, not giving Kronberg many chances. Shane Steenberge addes some nice goaltending when needed and Wiesbaden scored two more goals for a 6-2 victory. Nick Stortini, Patrick Zell and Jason Malak each had four points.
The "third half" was a success for both teams – a big BBQ with burgers, hot dogs and some cold drinks was a well-deserved conclusion to a great gameday – thanks again to the Crusaders for the sportsmanship and for this great match!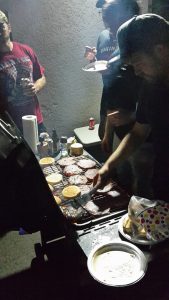 The next Tournament will be played on Sunday, 6th of August in Frankfurt.