The Vikings White team concluded their season on March 26 with a dominant 7-2 victory in the DPL 5 championship game. The win capped off an undefeated season. They went into the championship game against Eisberg after having only narrowly beaten them in the regular season opener. Eisberg had also just beaten Lightning Wiesloch in their best-of-three semi-final. Lightning Wiesloch were the only team the Vikings did not beat during the regular season, managing only a 1-1 tie. Led by captain Jannik Paluschtzik, the team approached the final game focused and without underestimating their opponent. Eisberg opened the scoring, but the Vikings did not let that discourage them. Minutes later Chris Norman, the team's leading scorer, tied it up. In the second period Eisberg scored again to take the 2-1 lead before the Vikings responded with a goal from rookie Tino Strunk. A powerplay resulted in the tie-breaking game winner scored by Joel Dever. The Vikings then took control of the game and ultimately scored 4 more in the victory (Paluschtzik, Dever, Strunk, Beem).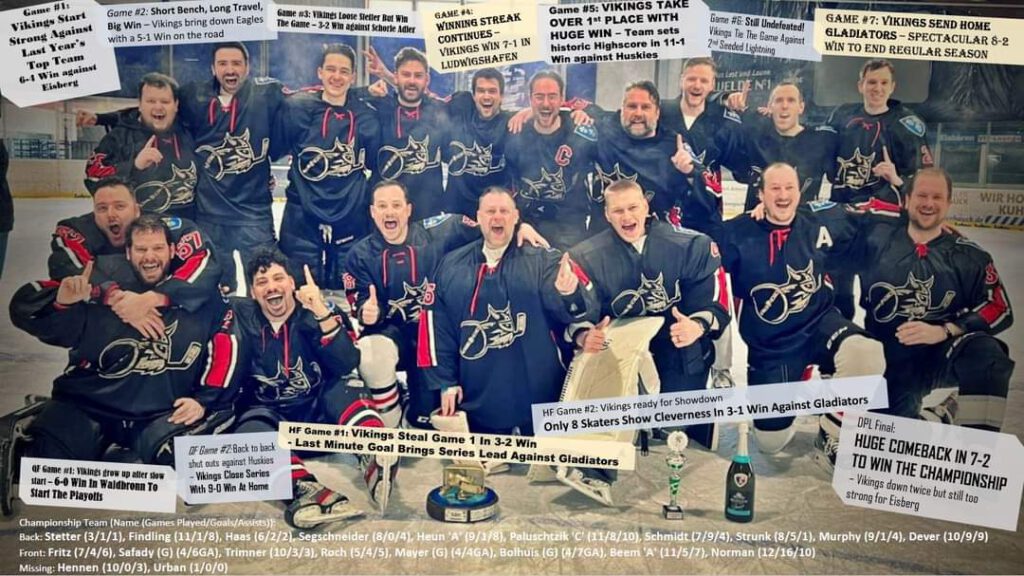 The Vikings White team owes their season's success in large part to their goaltending trio of Mike Mayer, Shjon Safady, and Noah Bolhuis. They combined to only allow 17 goals in 12 games across the regular season and playoffs. The championship game was tended by Shjon, who delivered an impressive performance. It was an appropriate finale for Shjon who moved back to the USA shortly after.
Solid defense and scoring depth were significant contributing factors in the team's success.  Every offensive line had scoring threats and playmakers. The defense shut down the opposing team's forwards and were effective at advancing the puck up the ice.
The team faced some challenges throughout the season.  The least of which were the long, late night drives the team had to endure from the Wiesbaden/Frankfurt region for away games.  They also lost a key forward, Marcel Stetter, for the season due to an injury. Additionally, during the second semi-final game the team only iced eight skaters, but still managed to win.
The roster should be largely unchanged going into next season. The team will likely be promoted to the fourth division where the competition will be tougher, but the Vikings are ready for the challenge.